HOW TO GET TO DUNN LEGAL's OFFICE
LEVEL 3, GATEWAY BUILDING, 1 MONA VALE ROAD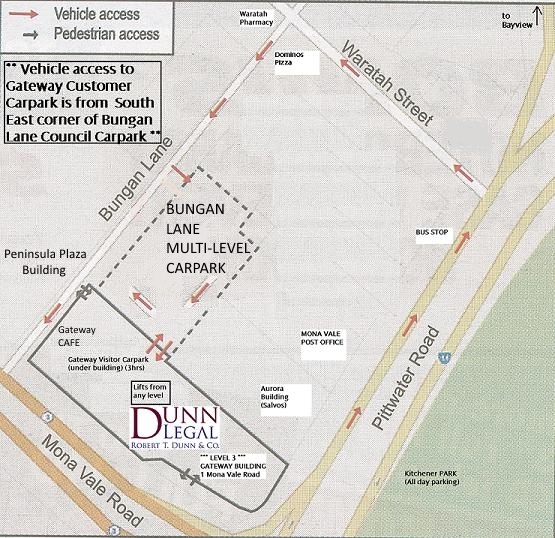 Directions to Gateway undercover customer Car-park (3hr limit)
From Waratah Street enter Bungan Lane (one way South)
Turn left into Bungan Lane Multi-Level Car Park (you can also park there)
Proceed down ramp, turn right & proceed straight ahead
Enter Gateway Customer Carpark (ramp goes down to the right past Bing Lee shop entrance)

Directions to Our Office on Level 3, Gateway Building

On any level, proceed to lift lobby in centre of building
Enter lift and press "3" for Level 3 (if coming after-hours, please phone us so we can let you up)
Exit lift on Level 3 and turn left
Proceed down hall, we are the second office on left.

Don't know how to get to Mona Vale?

Then CLICK HERE to get driving directions to 1 Mona Vale Road (enter your starting address)

Still having trouble finding us?
Don't give up, please call us on 9997-3255 and we'd be happy to provide further directions.